Why You Need It
Echinacea is a miraculous herb that gives excellent results both as a preventative for and a resolution to colds, sore throats, influenza and upper respiratory infections of all kinds. First used by Native Americans to handle symptoms such as coughs, runny nose, congestion, throat irritation and headaches, Echinacea is now ranked as one of the top selling herbs in the USA because of its track record for effectiveness.
As some herbal extracts contain ingredients that may not be so appealing to the taste buds, we created our Echinacea Syrup to provide all the powerful benefits of Echinacea in a form that anyone can handle. The base of organic Fig Syrup makes it not only palatable but yummy for adults so inclined!
The ingredients are similar to the Echinacea with Stress Support formula as it contains the adaptogen Eleuthero. Eleuthero, known by some as Siberian Ginseng, provides energy and stamina to deal with stress when feeling ill.
In addition to its great taste, Echinacea Syrup calms and soothes irritated throats as it goes down. The fig syrup feels gentle in your stomach. Figs supply your body with dietary fiber, vitamin B6, copper, potassium, manganese and Pantothenic acid. The fiber in figs aids digestion and supports regularity. The syrup can also stimulate appetite at times when you might feel queasy about eating.
Echinacea works by making your immune cells more effective at fighting off bacteria, viruses and fungi. It's a blood purifier which cleans wastes, bacteria and virus infected cells from your blood. Substances in Echinacea also increase the amount of immune cells and stimulate immune cells to protect your body.
As with any herbal product, the quality of the ingredients determines the formula's power. Taking shortcuts to save money gives a weak imitation of what you will experience when the herbs are at their full potency.
All of our herbs are organic or wildcrafted. They are distilled into concentrates and made by hand in small batches with loving care by our in house herbalist. The organic ingredients are "triple-tinctured" ( a process that extracts the full potency from each herb). This intense immune herbal concentrate produces results is unlike anything else. Let these herbs go to work in your system and unwelcome invaders will have a very hard time!
Take Echinacea Syrup:
As a preventative measure when colds, flu and infections are prevalent in your neighborhood.


At the first signs of illness, colds, sore throats or upper respiratory tract infections.
Success Stories
" I used Echinacea Syrup for the first time in December of last year when I came down with a horrible cold that lasted a couple of weeks. I was looking for some type of natural syrup that would be soothing to my throat and taste good. This did the trick! I absolutely adore the taste and looked forward to taking it to blast my system with Echinacea and the other great herbs in the formula. It's now my favorite Echinacea product in part because it tastes so good and I enjoy the lift in energy from Eleuthero which helps a lot when you're feeling under the weather." ~ K.M., Florida
Ingredients
Echinacea angustifolia root, Echinacea purpurea root & seed, Eleuthero Root, Pau D'Arco, Garlic, Cinnamon, Fig Syrup and Vegetable Glycerine.

Echinacea is one of Nature's most powerful immune fortifiers. This super herb works first by rocketing the number of immune cells and immune system chemicals and second by inducing these into more activity. Echinacea can hugely enhance the body's ability to overpower outside invaders. By tripling the amount of "killer cells" (T-cells and macrophages - white blood cells) in the bloodstream in a few days, Echinacea bolsters the body. Echinacea also promotes increased levels of the body's other natural immune chemicals. The herb also possesses powers beyond helping with microscopic invaders. It's said to be good for prostate health, too. Echinacea improves lymphatic function (to help the body cleanse and detox) and is one of the most excellent of blood cleansers. It's helpful in dealing with bites from insects, reactions to allergens and bacteria.

Pau d'Arco derived from the Taheebo tree of South and Central America, and is also called Lapacho.was used for centuries by the Incas, Aztecs and more recent Indio tribes. Pau d'Arco has demonstrated powerful anti-viral, anti-bacterial, anti-parasitic and anti-fungal activity in lab tests. This validates why this herb was so precious to the greatest civilizations in the Americas. Along with the other herbs in our formula, Pau d'Arco helps make sure that the creatures trying to invade your body are "out of luck"!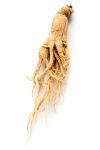 Eleuthero root (Eleutherococcus senticosus) has a long and honorable history in natural healing. It is a distant relative of Panax ginsengs, and has some similar properties. Eleuthero root is an adaptogen, meaning it can increase the body's resistance to stress. Studies suggest that Eleuthero root has anti-inflammatory, anti-oxidant and other properties. It also has a reputation for improving thinking and memory.
Eleuthero is mildly stimulating and energizing and is not recommended at bedtime or for use with sensitive children.


Garlic is one of nature's most powerful antibiotics; garlic destroys bad bacteria while leaving beneficial bacteria unharmed. It also possesses anti-viral properties that antibiotics do not, making garlic useful for colds and flu that antibiotics won't touch. Garlic's anti-fungal powers help zap Candida (yeast) infections and other fungal infections. It has a rejuvenating effect on all body functions.
Suggested Use
To boost immunity, during cold, flu and illness season, take 1-2 dropperfuls, 1-2 times daily for up to 6 weeks. May be taken under the tongue or in 2 oz. of water, juice, tea.
At the first signs of illness, take 1-3 dropperfuls every hour. If illness persists contact your health care practitioner.