Why You Need It
2 oz. Dropper Bottle

Helps you fight colds, flu, other illnessesss and overcome them faster if you come down with something.

You probably know something about Echinacea already, since it's one of the most popular herbs on the planet these days. But greedy companies have exploited this fact to cash in on the public's interest. Their formulas by our actual experience with them are very weak. All of our Echinacea formulas are made with the real Echinacea herb in potent strength.

We made Echinacea Syrup to offer all the goodness of Echinacea in a form that anyone can handle. The base of organic Fig syrup makes it not just palatable but yummy for adults so inclined!
The organic and wild-crafted ingredients work together to help the user avoid or more quickly overcome a host of illnesses. If you are ill or feel yourself coming down with anything, now's the time to hit the Echinacea. You may also use it preventatively where needed.
Be an "Immune Superman" - let these herbs go to work in your system and invaders will have a very hard time. The organic ingredients are "triple-tinctured". That's a process that extracts the full potency from each herb. The intense immune herbal concentrate that results is unlike else. It works!
Recommended Use:
As a general immune builder: 1 to 2 dropperfuls, 1-2 times daily for up to 6 weeks.
For intensive short term use: 1-3 dropperfuls every hour. If illness persists contact your healthcare proffesional.
Ingredients: Echinacea angustifolia root, Echinacea purpurea root, Echinacea purpurea seed, Eleuthero (Eleutherococcus senticosus), Pau D'Arco, Garlic, Cinnamon, Fig Syrup and Vegetable Glycerine.
Echinacea is one of Nature's most powerful immune super-boosters. By raising the number of and activity of natural immune cells and immunity chemicals, Echinacea greatly enhances the body's ability to zap invaders. Tripling key immune cells in just a few days makes this herb truly remarkable.

Garlic is Mother Nature's most universal, trusted and time-honored medicinal herb. Mankind has used garlic for thousands of years as "the" herbal cure-all. It's effective and vastly safer than modern, synthetic chemicals whose side effects can be devastating. Laboratory research has recorded both anti-bacterial and anti-viral activity for Garlic. It's a total winner.


Pau d'Arco, derived from the Taheebo tree of South and Central America, and is also called Lapacho.was used for centuries by the Incas, Aztecs and more recent Indio tribes. Pau d'Arco has demonstrated powerful anti-viral, anti-bacterial, anti-parasitic and anti-fungal activity in lab tests. This validates why this herb was so precious to the greatest civilizations in the Americas. Along with the other herbs in our formula, Pau d'Arco helps make sure that the creatures trying to invade your body are "out of luck"!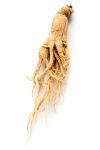 Eleuthero root (Eleutherococcus senticosus), also known as Siberian ginseng, has a long and honorable history in natural healing. It is a distant relative of Panax ginsengs, and has some similar properties. Siberian Eleuthero root is an adaptogen, meaning it can increase the body's resistance to stress. Studies suggest that Eleuthero root has anti-inflammatory, anti-oxidant and other properties. It also has a reputation for improving thinking and memory as well as helping with male sexual dysfunction.
Eleuthero is mildly stimulating and energizing and is not recommended at bedtime or for use with sensitive children.