Festive Miso Penne for Your Holiday Party

Not all Miso is Created Equally
 What is Miso?
Miso (pronounced mee-so) is an all-purpose and delicious seasoning for flavoring soups and meats or vegetable dishes, or for making salad dressings, sauces, and spreads made by a traditional Japanese method of fermentation of ingredients resulting in a highly nutritious and versatile food..
Our South River Miso is a chunky or smooth paste made from either organic non-gmo soybeans or organic chick peas or organic adzuki beans, sea salt and koji (a fermentation starter), and mixed with cultures of organic rice, and spices or organic or wild-harvested vegetables. The mixture is made by a unique, double fermentation process, which was elevated to a state of fine craftsmanship in traditional Japan, and it is allowed to ferment for 3 months to 3 years, which produces an enzyme-rich food.  Our Miso is not pasteurized and so has all the benefits including a complete array of amino acids, which makes it a complete protein.  It serves as a probiotic, helps with digestion and is a good vegetable source of B Vitamins.
Here is a festive featuring South River's organic, gluten-free, non-soy miso  This mildly spicy chickpea miso recipe includes  South River's Garlic Red Pepper Miso. Fresh garlic and Turkish red pepper paste are combined with Chick Pea Miso for this warming, mildly spicy variety. A touch of nettle greens and sea vegetables adds to its immune strengthening, healing properties.- aged for a minimum of three months. Enjoy with family and friends!
Festive Penne with Garlic Red Pepper Miso
Serves three or four
Ingredients:
3 tbsp olive oil
½ lb your favorite gluten free pasta
3 cloves garlic
1 tsp dried basil
1 tsp curry powder
4 cups chopped fresh spinach
1/2 cup soaked sun-dried tomatoes
3 tbsp Garlic Red Pepper Miso
Optional: 14 oz cake of extra firm tofu or 2 cooked chicken breasts, or equivalent amount of another desired protein
Directions:
1.  Optional: If using chicken breasts, bake or saute them first, or use chicken cooked the previous day  Cut into small cubes. If using tofu, pat dry with a paper towel, then cut into small cubes.A different favorite protein (such as fish, pork, or beans, may be used, if desired.
2. Bring 2 ½ quarts of water to a boil. Add a pinch of salt and penne, stir. Boil 11-13 minutes or to desired tenderness stirring occasionally. Drain in a colander and set aside.
3. Heat 2 tbsp of olive oil in a large skillet on high heat. Saute 1-2 cloves minced garlic. Add the soaked sun-dried tomatoes, and any optional cubed protein, stirring for about 2 minutes. Sprinkle 1 tsp curry powder over mixture, and stir to coat. Add dried basil.
4. Add chopped spinach. Stir and cook for about 1 minute more.
5. Mix 2 Tblsp Garlic Red Pepper Miso with 2 tsp water in a small bowl. Stir into vegetables/protein mixture..
6. Add the penne. Toss ingredients well. Add 1 Tbsp of the miso or more, to taste. Enjoy!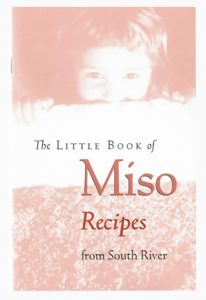 More wonderful miso recipes are in the
The Little Book of Miso Recipes 
 from South River 
Tags: Healthy Diet, Recipes
Posted in Healthy Diet, Recipes & Tips, Veggie Recipes