International Herb Association Herb of the Year 2018- Hops!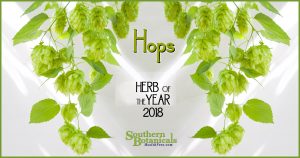 According to the American College of Healthcare Sciences, "Each year the International herb Association  releases a new addition to their annual anthology series, Herb of the Year™. This year, it's Hops, Herb of the Year 2018™: Brewing and Beyond.
Hops are the green seed cones around the female flowers of Humulus lupulus. The first documented cultivation of hops and use in beer occurred in Germany  in the early 8th to 11th centuries. First used as a flavoring agent in beer, it was later used in herbal medicines. It is most noted in modern times for its relaxing properties, calming tensions and irritability, and it may make one sleepy.
We use hops in some of our formulas…
Nerve Ease Concentrate (*Organic, +Wildcrafted): Valerian Root*, Passion Flower, Lobelia*, Hops Flower*, Black Cohosh*, Blue Cohosh+, Wild Yam Root+ and Skullcap in a base of distilled water and certified organic GMO-free alcohol. Learn More  
Female Tonic Ingredients Ingredients: (*Organic, +Wildcrafted): Dong Quai Root*, Wild Yam Root+, Chaste Tree Berry*, Licorice Root*, Damiana Leaf+ and Hops Flower* in a base of distilled water and certified organic GMO-free alcohol. Learn More
Tags: herb of the Year, Hops
Posted in Herbs