Colds and Flu? Naturally Boost Your Immune System with Herbs!
Flu and viruses are rampant and virulent this year. There are two flus this year which are highly contagious and whose symptoms hang on longer than usual. The best way to prevent cold and flu infections is through natural remedies that boost the immune system, kill viruses and help your body cleanse toxins.
We want to let you know how you can prevent catching a virus or flu, or recover and feel better, faster!
Organic herbal Echinacea is a remedy that can keep you feeling strong and healthy when many others around you are coming down with winter infections, colds and flu.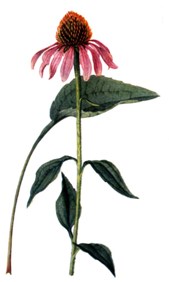 How Echinacea Helps You Fight a Cold or Flu Infection
Echinacea increases the number of white blood cells, like killer T-cells and macrophages and stimulates their activity level so you can resist or fight infection from bacteria, viruses, fungi and yeast. Echinacea contains alkylamides, the chemicals that give it that familiar tingle, which reduce inflammation and fevers. The polysaccharides in Echinacea increase your body's production of interferon, a natural protein which your cells secrete to stop viruses from spreading to nearby cells.
Scientific Studies Support Echinacea's Immune Boosting Powers
Lancet Infectious Diseases published a study in 2007 that demonstrated Echinacea's ability to reduce your risk of coming down with a cold by 58 percent. The study also found that Echinacea can shorten the time you're sick with a cold by over a day and half.
The University of Maryland did a review of 13 European studies on Echinacea that concluded if it is taken at the first sign of a cold, it reduced cold symptoms and shortened how long study subjects were sick.
How to Take Echinacea to Support Your Immune System
Echinacea works best when taken 7-10 days a few times a year to super charge your immune system. If you know you're going to be exposed to someone with a cold or flu, you can take an Echinacea concentrated tincture or syrup to prime your immune system to defend against viruses.
If you've already come down with a cold or flu, Echinacea Concentrates or syrup can be taken 3-4 times a day to soothe irritating symptoms and shorten the time you're sick.
You know you have a high quality active Echinacea product if your tongue tingles and goes a little numb when you put a little in your mouth.
Echinacea angustifolia and Echinacea purpurea are the most popular types of Echinacea used in herbal preparations, and we use both in our variety of Echinacea formulas. We have added herbs that compliment Echinacea like garlic and cayenne pepper to increase circulation of the immune boosting properties throughout your body and further support healthy immune function. Eleuthero root is another helpful immune system stimulant when combating viruses, as it also improves energy, endurance and memory.
Another Way to Stay Healthy This Winter
Your holidays may have been a time of indulgence in sweets and other heavy, rich processed foods.
These overload your liver and make it sluggish, impairing its ability to break down fats and filtering waste and invaders like flu viruses out of your blood. Excess stress on your liver can be relieved by strengthening liver function with cleansing herbal tea and/or tincture. Cleansing your liver is another way to support yourself during winter cold and flu season, making it easier for your immune system to fight off viruses or recover faster.
Read our informative new Guide to Liver Cleansing
You can also check our general herbal and nutritional products for Immune System Health
5 Foods for Flu - Naturally Boost Your Immune System | This Year's Flu and What to Do