Warning Dangerous To Your Health
ALUMINUM - METAL POISONING
This latest Public Service Announcement centers on the dangers of aluminum.
Just as important as knowing the right and health giving foods to eat is knowing the proper cookware to use to prepare our foods. It is best to cook all foods in the following types of cookware:


Iron Ware
Stainless Steel
Granite or
Porcelain Coated
Glass
Pyrex
FOOD SHOULD NEVER BE COOKED IN ALUMINUM!!!
Aluminum has been shown to be the worst invention ever for the use of preparing foods.
Cooking in Aluminum
Boiling water in aluminum produces: hydro-oxide poison

Boiling eggs in aluminum produces: phosphate poisoning

Boiling meat in aluminum produces: chloride poisoning

Cooking bacon in aluminum produces: powerful narcotic which can cause an individual to slip into a coma and then death.

Boiling soda in aluminum produces: hydro-oxide of sodium

Vegetables cooked in aluminum: are made poisonous by the production of hydro-oxide acid.


Aluminum produces a drug which neutralizes the digestive juices of the stomach, robbing them of their value to digest food and causing or producing stomach ULCERS and COLITIS. The poison produced by aluminum brings about a condition of acidosis of the blood. This condition destroys the red blood cells which produces a condition similar to anemia.

The sale of Aluminum wear for cooking purposes is prohibited in:
Germany France

Belgium Great Britain

Switzerland Hungary

Austria Brazil

All of the above information on aluminum products was done by McGuan for the Federal Trade Commission of the U.S. Government. It is report #540, Washington D.C.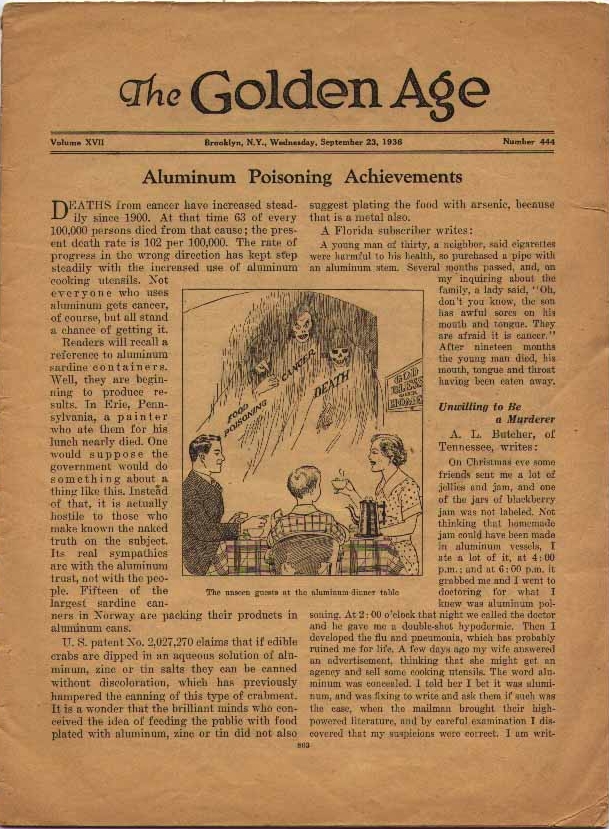 Per survey, 98% of the restaurants in the U.S. still use aluminum cookware to prepare the meals on their menus.
How often do you eat out?