Why You Need It
Revive is back - with Revive Diamond!
Our NEW Natural Male Enhancement Formula Revive Diamond® is scientifically formulated to naturally invigorate sensual vitality, sustain high energy levels & support sexual stamina.

A natural blend of 3 aphrodisiacs: Tongkat Ali Extract LJ100, Organic Tribulus Terrestris & Maca plus two nitric oxide enhancers, L-Citruline and Bergamont Polyphenic Extract Complex.
Revitalizes & increases sexual vitality, energy and stamina
Increases blood flow & circulation
Supports testosterone levels & libido
Boosts athletic performance
Containing a trio of well known aphrodisiacs, Tongkat Ali extract LJ100, Organic Tribulus terrestrial & Maca, this formula works with your body's own systems and natural energy.

These three aphrodisiac herbs have been used across the globe for centuries to reduce stress and enhance male virility, fertility, and sexual health. The Tongkat Ali extract LJ100 was created and patented by collaborative researchers from MIT (Massachusetts Institute of Technology) and the University of Malay (Malaysia).

In the past, we received such a great response from our Revive customers and were so impressed with the success stories you shared with us that you convinced us not to give up! Now we offer this new evolution of Revive.

Even though generic male enhancement pills have become available over the counter and cheaply, we had reports from our customers that those didn't provide the pleasurable libido-enhancing effects or testosterone support that Revive did with its herbal ingredients.

Our customers have told us that while medications may provide an erection, their wives and girlfriends prefer the pleasurable sensations and intensity in desire they used to experience with Revive!

You can use Revive Diamond by itself as a natural alternative. Used daily for one to three weeks you can experience a build up of natural male potency and power that men really appreciate!

Or you can take Revive Diamond while using any pills you currently buy in order to enhance desire and pleasure in the relationship – and fortify your underlying health at the same time.

Learn more about how Revive can help you revitalize your sexual health, regain sexual function and recharge your stamina by reading on.

How does it work and what's in it?

When testosterone production decreases you may simply feel old and search for the fabled "fountain of youth" to bring vigor back into your life. The following herbal ingredients will renovate your system and build a potent powerhouse of raw energy and potential for pleasure.

LJ100, extracted from the patented, proprietary and potent and Tongkat Ali (Eurycoma longifolia) has been known for centuries as the "fountain of life" and the "giver of life." This Malaysian anti-aging remedy is the only clinically proven Tongkat Ali extract, and is designed to support healthy testosterone and cortisol levels, boost your libido, raise your energy and endurance, and support weight management. Created and patented by collaborative researchers from MIT (Massachusettes Institute of Technology) and the University of Malaya (Malaysia) it is a unique advanced formulation for men.

Organic Tribulus Terrestris is the second plant root aphrodisiac in this formula long used for its libido-enhancing and testosterone-boosting properties. Found in the Mediterranean, Western United States, Turkey, Macedonia, Bulgaria, China and Vietnam, the Tribulus plant's leaf, root and fruit have been used in Ayurvedic and Traditional Chinese Medicine (TCM) for centuries.

Organic Maca, the third aphrodisiac in this formula has been grown in the Andes Mountains in Peru for over 2000 years and used by natives to boost fertility and sexual health. Called the 'Peruvian Ginseng' and used as an aphrodisiac, Maca is rich in fiber, calcium, iron and amino acids. Since ancient times it has been known to boost fertility, reduce stress and increase stamina.

L Citruline & Bergamot Blend, an excellent nitric oxide enhancer that increases blood flow and circulation, supplying blood where you need it!

Bioperine, increases absorption of the herbs.


You may be interested in Damiana also, a perfect complement to Revive. This herb enhances intimacy in both sexes and increases female lubrication. More about Damiana.

Ingredients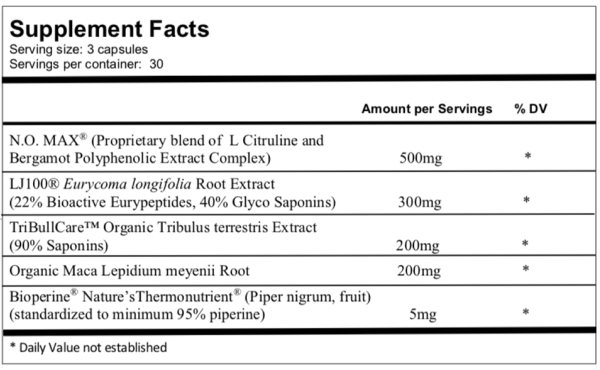 Suggested Use
Serving Size: 3 capsules.