Overview
Syntol AMD® Advanced Microflora Delivery
Syntol is a combination of probiotics, prebiotics and enzymes formulated to cleanse the digestive tract of candida and other unhealthy organisms. It contains powerful probiotic strains which naturally complement each other. It is capable of being shipped without dying off as Syntol uses spore germination technology, a revolutionary process that delivers spores rather than living bacteria. These spores come alive when released into the intestinal tract with the prebiotic.
Syntol can be used as daily probiotic or a therapeutic yeast cleanse.
The probiotic strains are capable of getting through the stomach and into the intestinal tract with an acid resistant probiotic capsule that can survive stomach acid. The probiotics neutralize the Candida yeast by taking back space in the intestinal tract, and the enzymes digest Candida away.
With Syntol, you can handle a probiotic deficiency if organisms like Candida have grown out of control, which may even have resulted in Leaky Gut.
Some symptoms that are a result of a probiotic defiency are:
Stress
Occasional bloating
Candida yeast
Sugar cravings
Digestive distress
Fatigue
Taking Syntol will help you support:
Intestinal/Digestive Cleansing
Optimal Nutrient Absorption
Healthy Immune Function
Stabilized Bowel Function
Healthy Fungal Levels
Normal Digestion and Intestinal Structure
Ingredients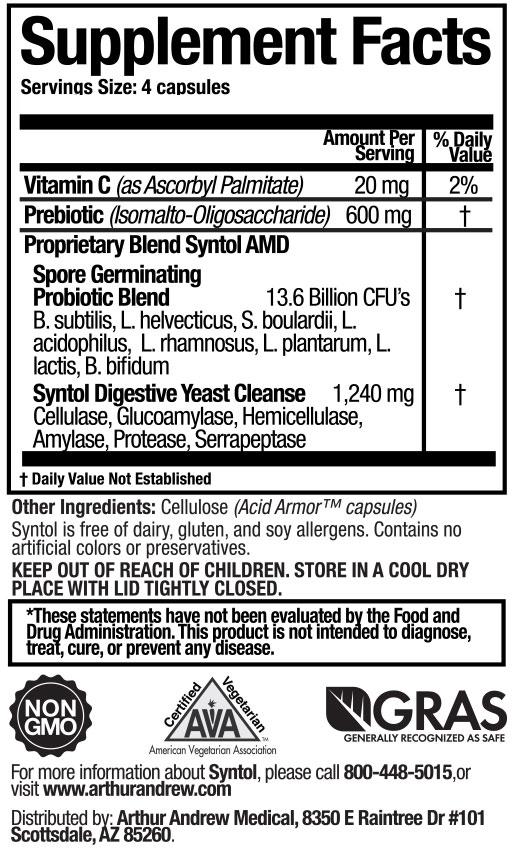 &nbs
Suggested Use
Take Syntol with 8 oz of water on an empty stomach, or as directed by your healthcare practitioner.

Larger amounts may be divided into 2 or 3 servings per day.
Maintenence: 2-4 Capsules per day.
Increased Support: 6 Capsules per day.
Therapeutic: 9-12 Capsules per day.
Warnings
Keep out of reach of children. Store in a cool dry place with lid tightly closed. Do not take this product without the consent of your physician if you are currently taking anti-coagulants or if you are pregnant or nursing.