Overview
Syntol AMD®
Syntol is a combination of probiotics, prebiotics and enzymes formulated to cleanse the digestive tract of candida and other unhealthy organisms. Syntol uses spore germination technology, a revolutionary process that delivers probiotic spores rather than living bacteria. Spore germination technology is an extremely dependable means of delivering probiotics in less than ideal conditions.
Syntol Supports:
Daily Probiotic Supplementation
Healthy Fungal Levels
Normal Digestive Permeability
Intestinal/Digestive Cleansing
Optimal Nutrient Absorption
Healthy Immune Function
Stabilized Bowel Function
Ingredients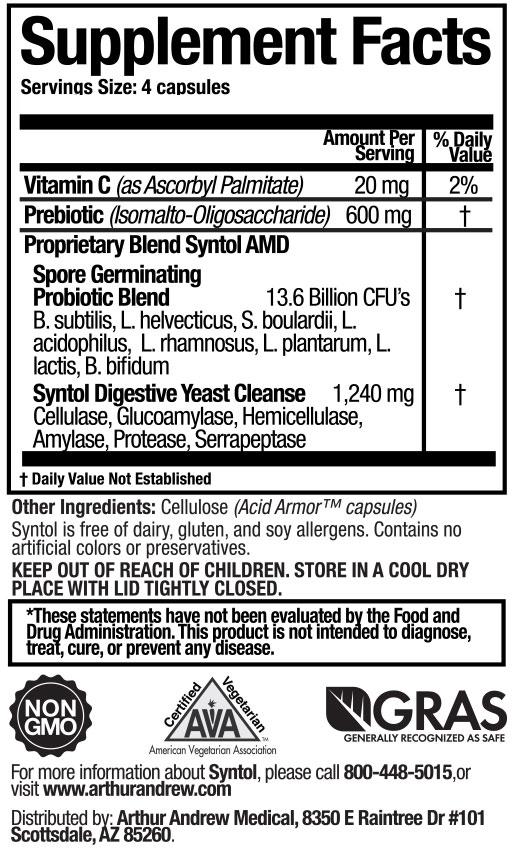 Vitamin C (as Ascorbyl Palmitate), Prebiotic (Isomalto-Oligosaccharide)†, Proprietary Blend Syntol AMD Spore Germinating Probiotic Blend†: B. subtilis, L. helvecticus, S. boulardii, L. acidophilus, L. rhamnosus, L. plantarum, L. lactis, B. bifidum. Syntol Digestive Yeast Cleanse†: Cellulose, Glucoamylase, Hemicellulase, Amylase, Protease, Serrapeptase.
† Daily Value Not Established
Cellulose (acid armor capsules)Syntol is free of dairy, gluten, and soy allergens. Contains no artificial colors or preservatives.
Suggested Use
Take Syntol with 8 oz of water on an empty stomach, or as directed by your healthcare practitioner. Larger amounts may be divided into 2 or 3 servings per day.
Maintenance
2-4 Capsules per day.Increased Support: 6 Capsules per day.
Therapeutic: 9-12 Capsules per day.
Warnings
Keep out of reach of children. Store in a cool dry place with lid tightly closed. Do not take this product without the consent of your physician if you are currently taking anti-coagulants or if you are pregnant or nursing.