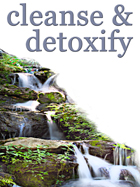 Our Cleanse Kits will not have you running urgently to the bathroom, like many other cleanse and detox teas or programs do! The herbs in our formulas work together for balance and can actually help strengthen, tone and support the intestinal tract and other body systems.



Our Cleanse Kits include instructions that start you out gradually on the intestinal cleanse steps and allow you to maintain healthy bowel movements without feelng like you need to know where every bathroom is located all day "just in case".



Note: When doing any cleanse that involves tea, the increased fluid intake, may require more frequent trips to the bathroom. Also, the herbs in the Kidney Cleanse encourage urine production and work to flush your urinary system, so you may notice you go to the bathroom more for the kidneys.





NEW LOWER PRICES - Our 10 Day and longer Cleanse Kits are more easily affordable now! We decided to make our Vital Nutrition Plus superfood ~ Now with Astragalus and Nettle* an optional add-on this season to lower the price.
Vital Nutrition Plus used to be part of the program to provide extra nutrients and energy to get you through your cleanse easily and successfully. With no fillers or sweeteners, our green superfood helps to build up strength and alkaline mineral reserves in the body, especially helpful while cleansing. However, many people have their own favorite superfood powder, so use yours if you prefer. Cleansing through herbs is the strongest, simplest thing you need.


If you are a beginner and this is your first time doing a cleanse for health, we have shorter cleanses that can help you get started on the road to feeling great with a cleaner, detoxified system and full instructions.
If you are experienced and have made cleansing a part of your yearly routine, we have classic Cleanse kits for thorough, high quality cleanses to address what you want, small system or whole body.

Do a cleanse for a specific system: intestinal, liver & gall bladder, kidneys with bladder & urinary tract, blood/lymph & skin - or cleanse your whole body internally for improved function, a fresh start and boosted energy.
These are great cleanses with potent, high quality herbs so you can feel a difference,
and even coaching by email or phone to answer your questions if you need it.
Please feel free to email or call us if you want advice on choosing the right cleanse for you.