Improving Vision Problems
How to Improve Your Vision Naturally
Eyebright & Other Herbal Supplements for Eye Health

During Dr. John R. Christopher's career as a master herbalist he developed an herbal eye wash that features the herb Eyebright to help correct a wide variety of eye problems in folks who are eating correctly and have cleansed their internal organs.
Note: The FDA warns against any non-sterile application to the eyes as this may cause serious eye infection. The use of herbal dietary supplements for external application is prohibited by the FDA. Any information provided here on using an eyewash is for historical educational purposes only.
Dr. Christopher also urged his patients to take herbal Eyebright extract twice a day internally along with Eyebright tea. He considered this absolutely essential if folks expect to get complete results when looking to improve their vision naturally.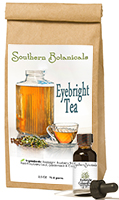 For this reason, Southern Botanicals offers Eyebright Tea along with Eyebright Concentrate. You can use them on their own or as part of an Eyebright Duo Package for the most benefit.
The Eyebright Formula contains eyebright herb, goldenseal root, red Raspberry leaf, mullein flower, bayberry bark, fennel seed, rue flower and cayenne pepper. These herbs work together to nourish the eyes and help cleanse the blood while supporting healthy vision.
---
Get answers to questions about this article or others by calling 727-443-7711
---
How a Liver Cleanse Can Help With Vision Problems
According to Dr. Christopher, when you clean the waste materials out of the eye muscles they will become stronger and better able to focus. When the lens in the eye is cleansed out, the light rays can travel through the entire lens and can better focus on the retina without being distorted.
Blood flows through the liver for cleansing and then to the eyes to help moisten and nourish them. When the blood from the liver is congested and deficient in nutrients it has a harder time feeding the eyes what they need for optimal health.
If you're interested in doing a natural liver cleanse there are multiple ways you can go about it from eating more liver cleansing foods to doing an herbal liver cleanse program.
Southern Botanicals makes a variety of organic herbal liver cleanse products including:
Dr. Christopher stressed that his herbal Eyebright formula gets results when you've done internal cleansing and follow a mucusless diet (Alkaline Diet), and that natural healing does not occur without these fundamentals.
For more information on internal cleansing see the following articles:
Your Guide to Intestinal Cleansing
Your Guide to Liver Cleansing Part 3: How to Cleanse Your Liver, A Nutritional and Herbal Liver Cleanse Program
The Natural Way to Do a Kidney Cleanse
Essential Vitamins You Need for Eye Health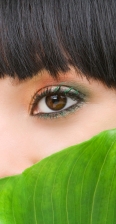 Certain whole foods and herbal supplements like eyebright provide essential vitamins, minerals and other nutrients that are essential for eye health. This includes vitamins B, C, E and A along with copper and selenium.
By using herbs and foods that are high in vitamins needed for healthy eyes, you're giving your body what it needs to build healthy tissue and best handle vision problems that may come up over time.
Eye Exercises to Improve Vision
There is another natural means one can employ to improve vision - eye exercises. These do work in many cases. However, without a greatly improved diet program, internal cleansing of the organ systems and use of the Eyebright formulas; exercises are usually very difficult to keep up with long enough to see the benefits. The eye exercises can take an hour or a day or more and often need to be done for a number of months before any benefits are seen.
However, when Dr. Christopher had his patients eat right, detox themselves internally and use the Eyebright formula daily, benefits from the eye exercises occurred very quickly - and with much better results.
The Best Book for Vision Problems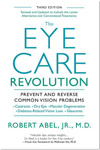 If you're serious about learning about other natural ways to improve your vision problems, we highly recommend the book The Eye Care Revolution-Prevent and Reverse Common Vision Problems.
Written by Ophthalmologist Robert Abel, Jr., M.D., it's well-researched and provides a balanced view of conventional and natural treatments for common eye issues. After completing his training in ophthalmology at Mount Sinai Hospital in New York City, Dr. Abel went on to serve as a clinical professor at Thomas Jefferson University where he cofounded the alternative medical curriculum.
His background is strong in both conventional and natural treatments for eye health including a patent he holds for artificial corneas along with developing a nutritional supplement for the eyes. Dr. Abel brings this thorough knowledge of eye care to his book with helpful tips and information throughout you can use right now to improve your vision and overall eye health.
Discover more articles about the benefits of eyebright for eye health:
Eyebright Newsletter - Learn interesting facts about eyes, foods for eye health and more testimonials on using the Eyebright Concentrate and Tea.



Warning: Cannot modify header information - headers already sent by (output started at /home/health95/public_html/Connections/HealthFR_NDB.php:9) in /home/health95/public_html/view_newsletter.php on line 109