Other Popular Herbal Products
Anti-Parasite Concentrate
This potent herbal tincture contains herbs that are traditionally known to help the bowels expel intestinal parasites and also kill immature parasites. Each ingredient in our formula is chosen with care because of its reputation as a powerful anti-parasite herb. These organic and wildcrafted herbs support immunity and digestion in addition to eliminating parasites. Cleansing with Intestinal Cleanse 1 and Intestinal Cleanse 2 aids in safely clearing the dying parasites from the intestinal tract.
Ingredients (*Organic, +Wildcrafted): Black Walnut hull+, Clove Bud*, Garlic bulb*, Fennel seed*, Gentian root+, Wormwood leaf*, Peppermint leaf*, Hyssop leaf*, Thyme leaf* and Sage leaf* in a base of distilled water and certified organic GMO-free alcohol.
2 oz bottle - Suggested Retail: $28.00
Oral Remedy Concentrate
Oral Remedy Concentrate is an herbal and essential oil combination beneficial to support healthy teeth and gums. When used daily for a period, it will increase circulation in the mouth tissues, helping to nourish teeth, bone and gums and carry away wastes, and can tighten gums.
Oral Remedy Concentrate contains no sugar or other sweeteners. The nutrient, essential oil and herbal properties in this liquid concentrate absorb directly in the mouth as you swish or hold it in the mouth.
Ingredients (*Organic, +Wildcrafted): Echinacea Augustifolia* and Purpurea*, Bayberry bark+, Oak bark/gall, Tea Tree oil, Cayenne pepper*, Peppermint oil* and Clove Bud oil in a base of distilled water and certified organic GMO-free alcohol.
2 oz bottle - Suggested Retail: $22.00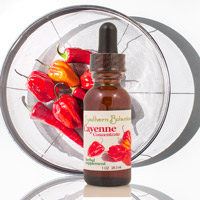 Cayenne Concentrate
Through centuries, herbalists have found Cayenne to be the most beneficial and useful of all herbs for the heart and circulation as well as digestion. No other herb can rocket blood flow as completely and rapidly as Cayenne. Taking cayenne will rocket your energy level too! Not surprising, since with increased circulation, your cells are getting nutrients delivered more quickly. If you want to wake up, right now and carry on without effort, take a few drops of cayenne right under the tongue. (Follow with a spoonful of coconut or olive oil, or butter or other fat to dilute the heat.)
Capsaicin is the active ingredient in Cayenne that makes it hot. The hottest Cayenne may feel like fire but actually causes no damage whatsoever. Cayenne can be found in many of our herbal tinctures and cleanses, as it is known to increase the effectiveness of other herbs. It also contains valuable nutrients, including vitamins A, C, the complete B complexes, organic calcium and potassium.
Cayenne Pepper Supports Healthy Circulation
Cayenne helps circulation by removing blockages, allowing nutrients and oxygen deep into your tissue. Carrying away wastes and toxins from the cells is the reverse side of circulation, assisting the blood in its cleansing as well as nourishing action.
Cayenne Pepper as Digestive Aid
Cayenne helps to strengthen and rebuild tissue in the digestive system also, while increasing muscular action in the intestines. Cayenne helps the stomach produce more hydrochloric acid, which is essential for digestion of proteins. You will notice we add Cayenne to our Intestinal Cleanse Products not only because it aids digestive and elimination, but also because it enhances the other herbs. Cayenne Concentrate can support your metabolism, immune system functions, and body temperature since these also depend on healthy blood flow.
Ingredients: Organic Red Habanero, African Bird's Eye and Scotch Bonnet peppers in a base of distilled water and certified organic GMO-free alcohol.
1 oz bottle - Suggested Retail: $18.00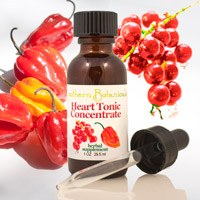 Heart Tonic Concentrate
Heart Tonic Concentrate Supports Your Entire Circulatory System
The properties of the Hawthorn berry, Cayenne pepper and other herbs in this supplement provide nutrients and support for the heart, blood and cardiovascular system. As an herbal tonic, it helps strengthen and tone those vital systems over time. Heart Tonic Concentrate also provides a circulation boost and more energy, while encouraging a regular heartbeat and cleansing blood flow throughout.
Ingredients (*Organic, +Wildcrafted): Hawthorn Berry Syrup*, Red Clover Blossom*, Cactus Grandiflorus (also called Night Blooming Cereus)+, Motherwort Flower*, fresh Garlic juice*, Ginger Root* and Cayenne Pepper* (herbs from tinctures made with GMO-free alcohol and distilled water)
2 oz bottle - Suggested Retail: $31.00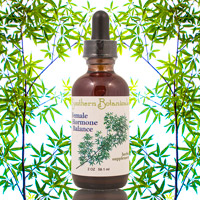 Female Hormone Balance Concentrate
Female Hormone Balance Concentrate helps regulate and balance female hormones using three traditional time-tested organic or wild-crafted herbs. A simple formula rich in phyto-estrogens ( plant-based compounds that have mild estrogenic properties), this herbal source of hormones can help balance and allowi your body and emotions to return to a natural rhythm. It may also promote a return to the normal menstrual cycle after stopping birth control pills.
Ingredients (*Organic, +Wildcrafted): Chaste Tree Berry*, Wild Yam Root+ and Dong Quai Root* in a base of distilled water and certified organic GMO-free alcohol.
2 oz bottle - Suggested Retail: $26.00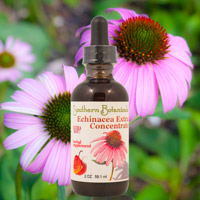 Echinacea Extra Concentrate
Echinacea Extra Concentrate contains not one but two potent forms of organic Echinacea to support your immune system. The "extra" in Echinacea Extra Concentrate comes from the cayenne pepper that boosts circulation to bring white blood cells and immune fighting factors to where they are needed rapidly! This gives you additional support for your immune system and helps the Echinaceas work even better and faster.
Herbal effectiveness depends on the quality of the ingredients used. Top-quality Echinacea is so potent that if you put some on your tongue for a few moments, you can feel your tongue get slightly numb and tingly. We've tried this test with nearly all the common, commercial Echinacea formulas, but nothing happened... Try our Echinacea Extra Concentrate and you will feel the tingle... and the heat!
Ingredients (*Organic, +Wildcrafted): Echinacea Angustifolia Root*, Echinacea Purpurea Root* & Seed*, Garlic and Habanero (Cayenne) Pepper in a base of distilled water and certified organic GMO-free alcohol.
2 oz bottle - Suggested Retail: $30.00
Brain Tonic Concentrate
Your brain, just like any other organ, responds to nutritional and life style choices. Lack of sufficient sleep or exercise, poor nutrition and environmental pollutants can reduce nourishing blood flow to the brain, and as you age this can take a toll. Poor blood circulation can result malnourishment of the cells, denying the brain adequate oxygen and glucose, the brain's primary food. Wastes are not removed efficiently when blood circulation is lowered. Inadequate blood flow to the brain may result in mental fogginess, poor concentration and lack of alertness.
Brain Tonic Concentrate uses time-tested, proven herbs famous for their ability to revitalize the brain and bring about a feeling of well-being. The combination of herbs in Brain Tonic stimulate blood flow to the brain, helping to maintain delivery of oxygen and nourishment to brain cells and supporting removal of cellular wastes. This can support mental clarity, heighten focus and memory. Brain Tonic Concentrate stimulates alertness, decreases mental fatigue, and improves concentration. It also gives support to the inner ears.
Organic and Wildcrafted Ingredients: Ginkgo leaf, Gotu Kola, Rosemary, Kola Nut and Cayenne Pepper in a base of distilled water and certified organic GMO-free alcohol.
2 oz bottle - Suggested Retail: $26.00
Lobelia Concentrate
Lobelia is one of the most powerful and effective expectorant herbs available, and will induce coughing to get phlegm and irritants out of the lungs to enable deeper, unobstructed breathing. It helps to relax smooth muscle and calm the nerves. Lobelia is also a diaphoretic that promotes perspiration and cools the body while ridding the body of toxins through the skin.
Dr. John Christopher, a pioneer American herbalist, used Lobelia extensively in his formulas as he valued it highly. He considered it to be a "thinking herb" as it seemed to go directly to the body part that most needed help.
Lobelia Concentrate uses only organic Lobelia grown in the USA. This preparation is more powerful than any you will normally find in a store.
Ingredients: Organic Lobelia herb in a base of distilled water, certified organic GMO-free alcohol and apple cider vinegar.
1 oz bottle - Suggested Retail: $12.00
2 oz bottle - Suggested Retail: $22.00
Kidney & Bladder Cleanse Concentrate
Kidney & Bladder Cleanse Concentrate is a natural way to support your kidneys and bladder natural functions of elimination.This concentrated herbal remedy is cleansing to the entire urinary tract. It soothes and nourishes these tissues while flushing irritants and excess waste contents out. The herbal cleanse is also supportive to a healthy prostate.

Kidneys work to keep the body in "homeostasis" which means maintaining the same normal balanced state. Your kidneys remove excess minerals from the blood, certain drug and chemical residues as well as waste by-products of normal body function. The kidneys also produce hormones that regulate fluids and blood pressure, and maintain electrolyte balance.

There are so many toxins entering the environment than ever before. High amounts of chemicals, additives, pesticides, herbicides and other pollutants in our environment and foods all burden natural detoxification systems. Toxic substances from cleaning, beauty and personal care products and medicines can also accumulate in the body and overburden the kidneys and irritate the bladder and the rest of the urinary tract. The kidneys and urinary tract respond to herbal support to stimulate and flush wastes from time to time.

Potential Benefits of Doing a Kidney & Bladder Cleanse With Herbs
Less stress on the kidneys
Soothe irritated tissues in the urinary tract and bladder
Release excess fluid
Improve bladder control and sleep better with less interruptions
Increase energy
Ingredients (*Organic, +Wildcrafted): Juniper berries*, Uva Ursi leaf*, Corn silk*, Horsetail herb+, Pipsissewa leaf+, Burdock root*, Goldenrod flower*, Parsley root* & leaf* in a base of distilled water and certified organic GMO-free alcohol.
2 oz bottle - Suggested Retail: $28.00
Vital Nutrition Plus
Vital Nutrition Plus has NO animal products, NO gluten and NO hidden sweeteners. - it contains only natural and organic plant-based ingredients. The herbs and vegetables have not been heated and are carefully dried with a special low-temperature process that ensuresenzymes are preserved.

Vital Nutrition Plus floods your body with natural vitamins, minerals, and nutrients, and our bodies work better when the blood is carrying adequate amounts of high quality nutrients. That's why Vital Nutrition Plus is the perfect compliment to any health program.

Vital Nutrition Plus is one of the easiest and most effective ways to build alkaline reserves to balance your body pH - despite the influence of acid-forming processed foods, pollution and stress.

You will find Vital Nutrition Plus is an essential addition to any Cleanse program or diet change as it helps to keep energy high and reduces cravings so you can complete your health programs successfully.

Packaged in a re-sealable, biodegradable, environment-friendly bag.

Ingredients (*Organic, +Wildcrafted):Spirulina Blue-Green Algae, Chlorella broken-cell Algae, Nettle leaf, Purple Dulse Seaweed, Wheat Grass, Spinach leaf, Barley Grass, Alfalfa Grass, Astragalus root, Rose hips, Orange Peel, Lemon Peel, Beet root, in a base of non-active Nutritional Yeast.

112 Capsules - Suggested Retail: $14.00
480 Capsules - Suggested Retail: $38.00
14 oz. Powder - Suggested Retail: $33.50