Overview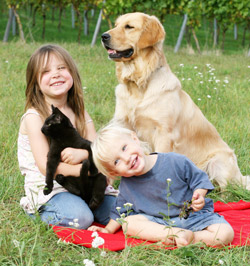 Intestinal Cleanse 3 provides great tasting, liquid support for elimination for anyone in the family who needs it, including kids and pets!
Intestinal cleansing permits your body to better absorb nutrients from the food you eat by moving out accumulated wastes. When wastes build up, toxic subtances may also sit in the colon overlong and be reabsorbed back into the bloodstream. Many people experience more energy, less fatigue, happier moods, healthier skin, fewer headaches, and better sleep after cleansing. These are just some of the increasing benefits as the health of the colon improves.
Gentle but effective, this formula promotes soft, easy bowel movements and will help strengthen the colon for better future elimination. The base of this tonic, California Fig concentrate, provides fiber which acts as a mild, natural food-based aid, and also makes the formula sweet so kids like the taste.

Narrowing of the intestines may occur for various reasons. Gentle Intestinal Cleanse 3 can restore movement, its fiber and herbs clearing out accumulated waste and allowing freer passage.
Although this formula was originally designed primarily for children, it works for adults, too. In fact, many adults prefer it instead of Intestinal Cleanse 1 because it has a slightly different action, softening the stools as well as promoting peristalsis. For some who do not like taking capsules, this is the perfect choice - including for the elderly.

It can be substituted for Intestinal Cleanse 1 in our Cleanse Kits.
Our veterinarians, who use Gentle Intestinal Cleanse 3 with their dogs and cats, say it is easy to use and works so well. To administer, they use a pet oral syringe, open the pet's mouth, and just squirt some in. Animal patients are happy, too, not having to deal with capsules or nasty medicine tastes.
Success Stories
These statements have not been evaluated by the FDA. Individual results taking herbal preparations vary, and similar results are not guaranteed. This information is for educational purposes only and is not intended to diagnose, treat, cure or prevent any disease. Consult with your health practitioner if you have a health problem before using this or any dietary or herbal supplement.
---
Gentle Intestinal Cleanse 3
We use Intestinal Cleanse 3 for our daughter which was recommended to us by a nutritionist. When our daughter was born, we didn't know what was wrong; she was not able to handle formula. After 3 months we found out she had an allergy to sugar. We also found out she had swallowed some fluids before she was born which had caused a problem with her stomach. We tried her on Intestinal Cleanse 3 and it helped her a lot with her digestion. We continue to use IC3 with her off and on, she's 7 months old now and doing much better. ~ Fernando V. New Orleans, LA
---
I used the Intestinal Cleanse 3 recently for my cat. She had a urinary track infection and went on antibiotics which caused her to become backed up. It worked very well. ~ T.B.
---
I use Intestinal Cleanse 3 with my kids. I started using it with them while I had them on a 6 week parasite cleanse. I saw they had symptoms of parasite infection since we live out on a farm and I knew they needed a cleanse. I know you need some kind of support to ensure good elimination while on a cleanse program and tried to get my kids to take the Intestinal Cleanse 1 capsules. They could taste it in everything I put it in and didn't like the flavor. I later found out from a girl I work with that Intestinal Cleanse 3, is a liquid version. I tried mixing Intestinal Cleanse 3 with grape juice and my kids were fine taking it like that.
After they took Intestinal Cleanse 3 I noticed an increase in their bowel movements. It was a gentle cleanse. With my 10 year old, it took about 3 days to see an increase in activity. With my 5 year old it took about a day and a half. They stayed regular from that point on. I went through at least 9 bottles while they were on the parasite cleanse. I just followed the instructions on the bottle for how much to give them. I still give my kids Intestinal Cleanse 3 on occasion when they are backed up because it worked so great at keeping them regular while they did a parasite cleanse. ~ Lisa H. Waverly, OH
---
Intestinal Cleanse 3 has been functional for 2 cats, Jack Bauer and Leroy Jethro Gibbs. Jack Bauer didn't go for 10 days. He had 3 enemas but nothing would come out. An x-ray was taken which showed that it was not slowed down in his behind, it was blocked just before there. Where he slowed down and backed up was before it even reached his behind! I put it in baby food and he licks the plate clean. We love Intestinal Cleanse 3. ~ J. M., Evergreen Park, IL
---
Ingredients
Ingredients (*Organic, +Wildcrafted): California Fig Concentrate, Tincture of Senna leaf+ & pod+, Cascara Sagrada bark+, Tangerine oil, Anise oil, Clove Bud oil, Vegetable Glycerin*.

Contains no sugar, no animal products, no GMOs and no fillers.
California Fig Syrup - Softens stools and has an action similar to prunes, but tastes better.
Vegetable Glycerine - Retains moisture as a preservative and adds some sweetness. (Vegetable glycerin metabolizes differently than sugar.)
Senna leaf & pod and Cascara Sagrada bark tincture - The tiny amount of these two herbs mildly stimulates the muscular contractions of the digestive tract.
Anise Seed & Clove Bud Oil - Mildly soothes the stomach and griping of the intestinal tract, eases gas.
Tangerine oil - Adds a final note of extra special flavor.
Suggested Use
Approximately 24 teaspoons
Start with 1/4 of teaspoon daily for each 50 lbs. of body weight. If needed, increase by 1/2 teaspoon each day until the desired effect is obtained. This formula works best if taken with food. We suggest taking it during or just after dinner.