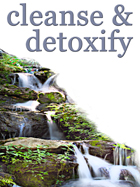 For a Fresh Start, Improved Function & Increased Energy

Cleanse a specific system: Intestinal, Liver & Gallbladder, Kidneys/Bladder & Urinary tract, Blood/Lymph & Skin,
or your Whole Body


If you are experienced and have made cleansing a part of your yearly routine, we have classic Cleanse kits for detoxification to thoroughly address what you want - a small system or whole body.

If you are a beginner, we have shorter cleanses that can help you start on the path to detoxifying and feeling better!

Please feel free to email or call us if you want advice on choosing the right cleanse for you. These are great cleanses with potent, high quality herbs so you can feel a difference, and even coaching by email or phone to answer your questions if you need it.
Cleanse Kits include instructions that start you out gradually on intestinal cleanse steps, and allow you to maintain healthy bowel movements without feeling like you need to know where every bathroom is located all day "just in case". Herbs in our formulas can actually strengthen, tone and support the intestinal tract, helping to balance.

Read more - Articles about Cleansing For individual cleanse products - explore links on green side bar