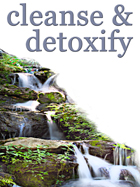 Get a Fresh Start for the New Year
with One of Our Cleanse Kits
If you are a beginner and this is your first time doing a cleanse for health, we have shorter cleanses that can help you get started on the road to feeling great with a cleaner, detoxified system and full instructions.
If you are experienced and have made cleansing a part of your yearly routine, we have something for you! Thorough, high quality cleanses to address what you want, small system or whole body.
Do a cleanse for a specific system: intestinal, liver & gall bladder, kidneys with bladder & urinary tract, blood/lymph & skin - or cleanse your whole body internally for improved function, a fresh start and boosted energy.
These are great cleanses with potent, high quality herbs so you can feel a difference,
and even coaching by email or phone to answer your questions if you need it.
Please feel free to email or call us if you want advice on choosing the right cleanse for you.