View Larger Image

Artery Strong Vitamins D, A, K7 - 60 Softgels

SKU: SUPPLEMENTS. Artery Strong 60 Softgels
Why You Need It
A Synergistic Team for Your Heart and Arteries - and Great for the Immune System too!
Your body needs the fat-soluble vitamins A, D3, and K2 in adequate proportions for maintaining tissue integrity and building the body's tissues structurally.

Mucous tissues in the respiratory and digestive systems are built and maintained with these nutrients. They are also necessary for vascular health and to balance the uses of calcium in the body.

The potent vitamins in Artery Strong support cardiovascular health, blood vessel elasticity, and arterial wall strength. Vitamin A and D work together to support artery health, while vitamin K supports the mechanisms responsible for arterial wall strength.

Vitamin D3 is needed for strong blood vessel walls, healthy blood pressure, normal blood clotting and heart muscle vitality.

Retinol is superior to beta-carotene - it's the real vitamin A that your body doesn't need to convert further. This concentrated form keeps vitamin D in balance, so both work better.

Vitamin K2 is a crucial nutrient that supports vascular integrity and strength. MenaQ7 is a clinically studied form of vitamin K2 that works in your body to balance calcium levels for healthy arteries.


How Vitamins A, D3 and K2 work together
Balance
Vitamin A partners with Vitamin D to build and support mucous membranes, gut, skin, eye and organ cells throughout the body.
Strength
Vitamin K supports the mechanisms responsible for calcium regulation, including developing and maintaining bone, brain cell and arterial wall strength.
Vitality
Vitamin D supports cellular mechanisms associated with good function throughout the body.
*These statements have not been evaluated by the Food and Drug Administration. This product is not intended to diagnose, treat, cure, or prevent any disease.
Ingredients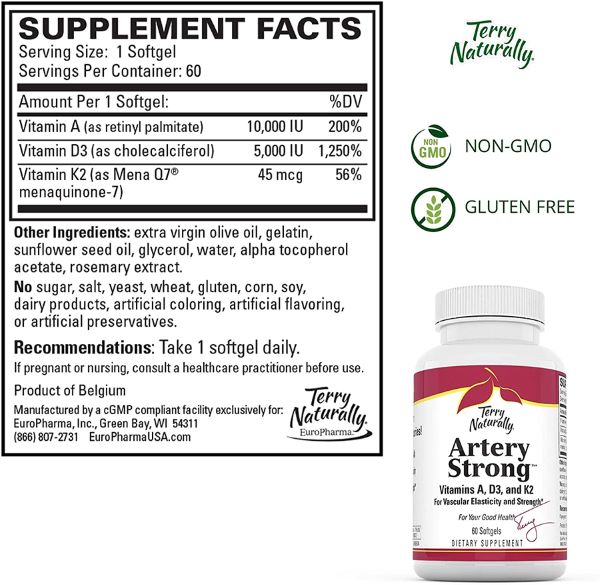 Each softgel contains 10000 IU of Vitamin A (as retinyl palmitate), 5,000 IU of Vitamin D3 (cholecalciferol), and 45 mcg of Vitamin K2 (as Mena Q7® menaquinone-7).
Other Ingredients: Extra virgin olive oil, gelatin, glycerol, water.
Free of Sugar, salt, yeast, wheat, gluten, corn, soy, dairy products, artificial coloring, artificial flavoring and artificial preservatives.
Suggested Use
Take 1 softgel per day or as directed by your qualified healthcare professional.

Store in a cool, dry place.
Precautions
NOTE: If you have a medical condition, are pregnant, lactating, trying to conceive, under the age of 18 or taking medications (especially anticoagulants [e.g. Warfarin/Coumadin]), consult your healthcare professional before using this product.