What About Free Shipping? How Our Shipping Is Done
Did you know we daily hand-pack all the orders for you?
We always pack our glass bottles securely with lots of bubble wrap to make sure they don't break enroute.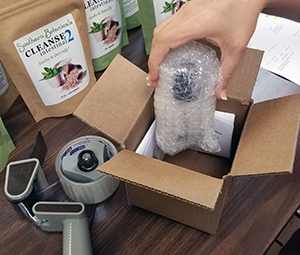 Products in glass bottles are heavier, but also healthier with no toxic plastic leaching into them to sabotage your health. Keep in mind that this results in heavier packages with a higher shipping cost. If your order includes several glass bottles, know that we do careful hand-packing with bubble wrap to ensure your products make it to you intact.
We usually get all orders shipped by the next business day, and do our best to get orders out the same day if possible. We know you want your orders as fast as possible! You can always call us to see if we are able to expedite an order to make sure it goes out the same day if you need it right away, and we rarely charge anything extra for that.
We try to pick just the right size box for your order, to give you the lowest price on shipping.

Many companies these days offer "free shipping", but build the cost into their product prices. So if it costs X to ship across the country, that has been included in the product price already - and you pay that even if you live only in the next city or state over.
That's not what we do here at Southern Botanicals. The shipping is customized for each customer depending on the weight and destination. We use flat rate boxes whenever possible, but some product combinations will fit into a smaller flat rate box, others won't.
We started in business about 20 years ago before it was the practice to include a shipping cost in the product price and call it free shipping. We prefer to give honest transparency on costs. We choose to keep our quality of product high and herbs potent, choosing only the best materials and products to give you real support for your health - and fair prices. We have rarely raised our price on anything in 20 years, despite rising costs, and we have sales often.
We actually did testing and one month offered some good discounts on our cleanse packages, and the next month offered not so low price but free shipping. The lower prices won, so we recalculated even our regular cleanse kit prices, doing everything we could to reduce the cost and weight of the kits - and give you the lowest price while still charging for shipping.
We have seen companies who state on their website that although shipping is "free", if you return a product and ask for a refund, they will subtract the actual cost of shipping from what they refund you - because it was in fact already included in the price of their product!
One website owner told us that he always charges a standard $7.95 shipping for all packages despite size and weight, but increased the cost of each product to cover the balance of the shipping (across the country), so that customers were pleased with low "competitive" shipping charges.
Sometimes because of a combination of products and packaging, the automatic shipping calculator on our website comes out with a higher than expected price. If you think that is the case, you can always call us. We will double-check if it's the lowest cost available for those items, and if not we find the lowest cost and take your order by phone to give you that, and also get it corrected on the website.
We do care about our customers and want you to be satisfied!
Back to Shipping Information for all methods of shipping
Get a Gift Certificate for someone you care about