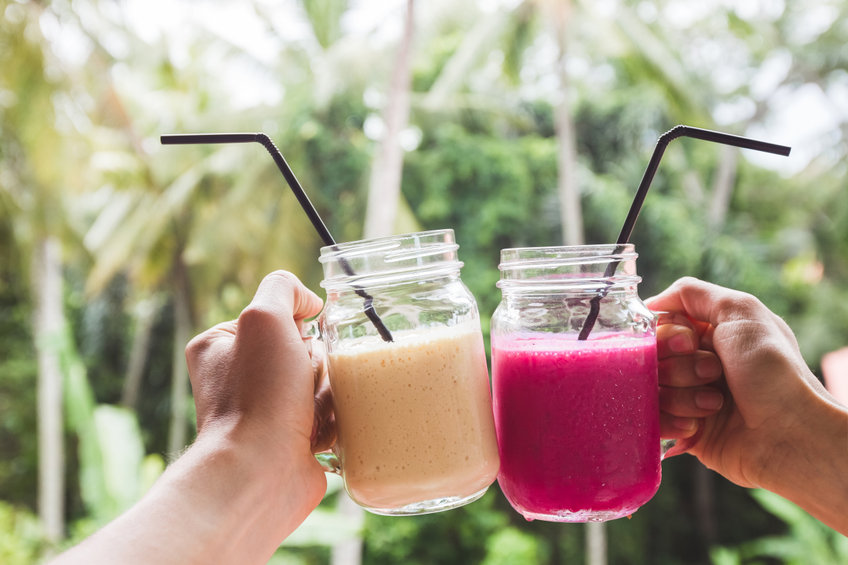 Cool off with these nutritious and delicious summertime smoothie recipes. Use our favorite supplements to sneak in to these shakes for an extra shot of energy and wellness!
Smoothies are a delicious and quick-and-easy way to make sure you're getting the vitamins and minerals you need to keep you going through this season's long hot days and nights.  We love how easy it is to sneak in a little extra nutrition into a smoothie for an extra energy boost without skimping on taste.
We've rounded up some of our favorite smoothie recipes to keep you cool this summer. We think you'll find they taste great and put some pep in your step too. We also wanted to share some of our favorite supplements that we think are best when blended into these healthy treats.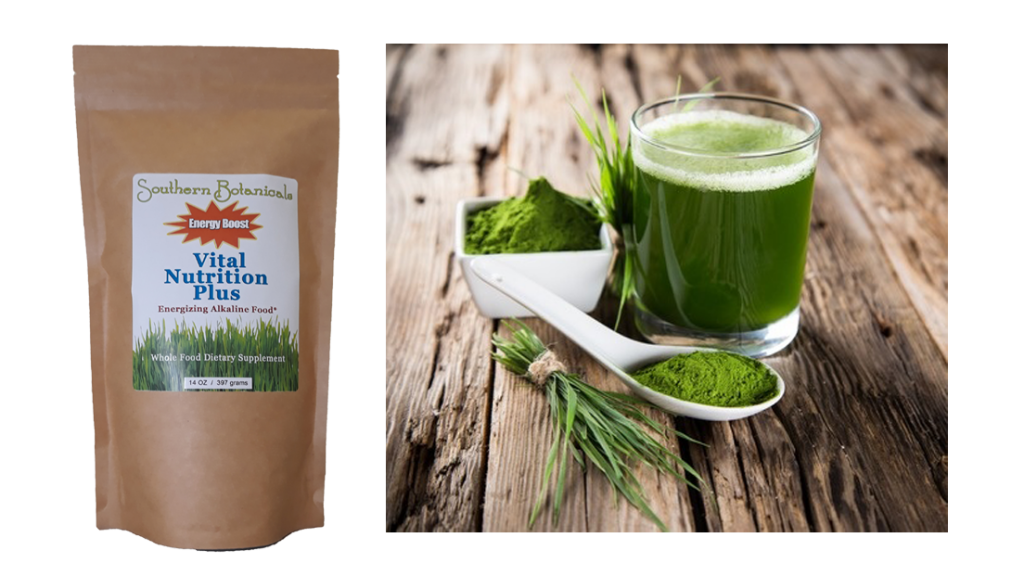 Our absolute favorite thing to add to shakes and smoothies is Vital Nutrition Plus. Energizing and alkalizing, this green powder is chock full of super foods, natural whole food vitamins, minerals, adaptogens, and more. It's great in a breakfast smoothie for some get- up-and- go, or as a kick start for an afternoon slump. Since it's unsweetened, it balances the sweetness of a fruit smoothie or a glass of pineapple or pomegranate juice well. It also complements and blends into a vegetable based smoothie too. Try it in our Tropical Green Smoothie!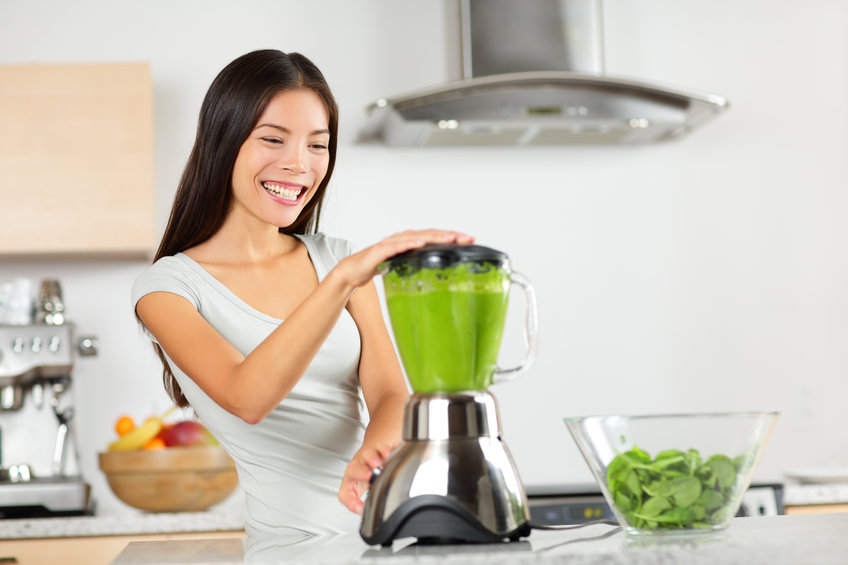 This vegan-friendly powder blends easily into shakes and is free of fillers, sweeteners, and caffeine. Made without any heavy protein powders, it's easy to digest and won't gunk up your system. We also love that it's made right here in the USA.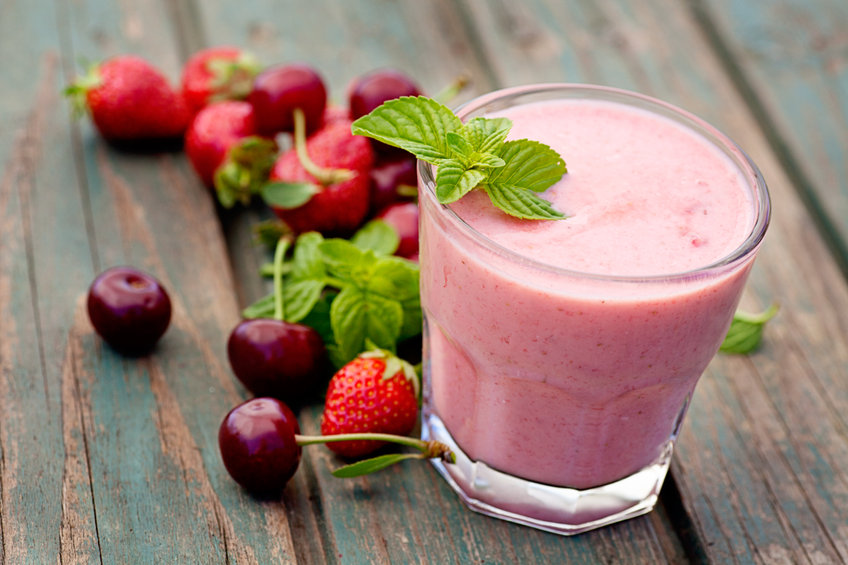 Another supplement that's big in our smoothie rotation is our Organic Freeze-Dried Acerola Cherry Powder. The unsweetened, natural cherry flavor makes smoothies taste even more rich and delicious.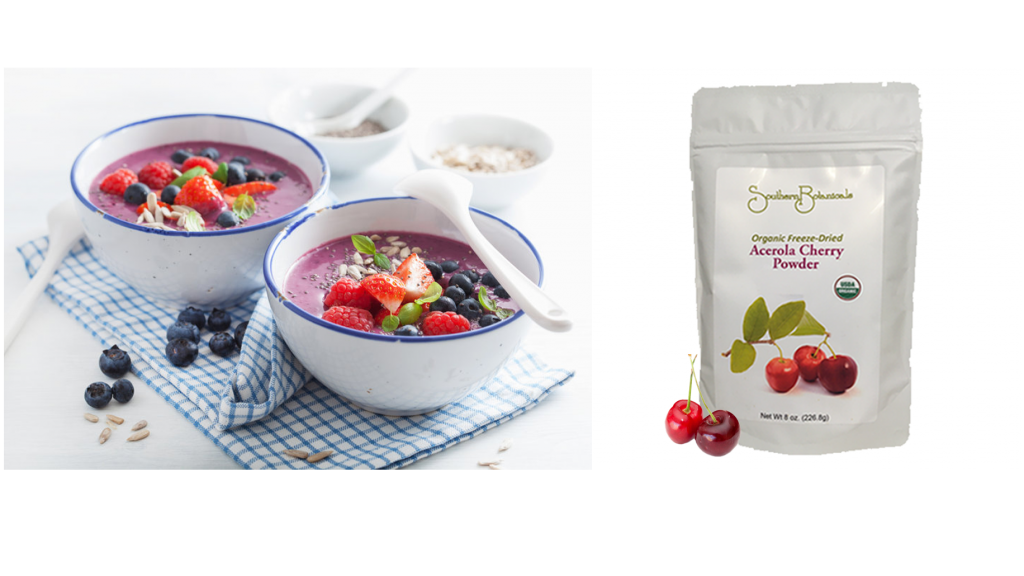 Raw, unpasteurized honey is another ingredient we also like to use in shakes, for health, not just taste.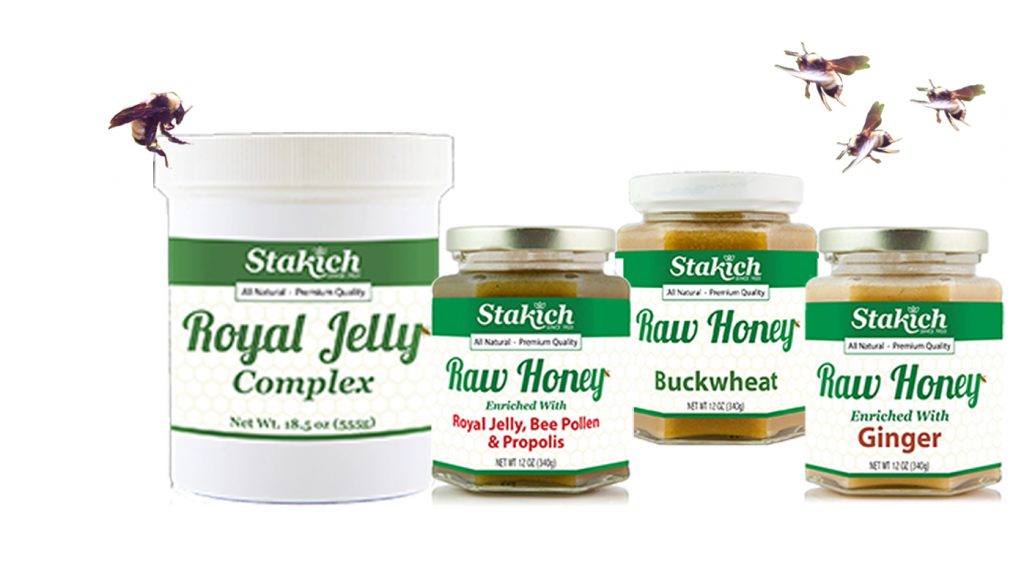 Our exceptional Raw Honey satisfies a sweet tooth and provides energy and a slew of good-for-you ingredients like naturally occurring enzymes, amino acids, vitamins, minerals, and naturally occurring probiotic ingredient.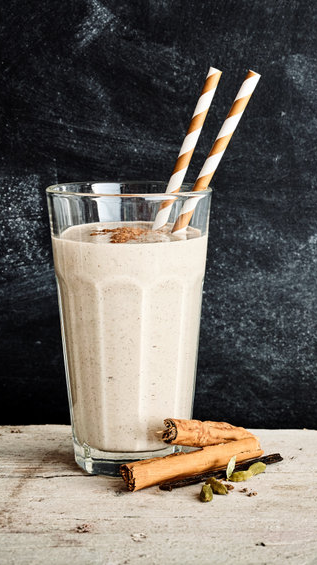 Our Raw Honey with Ginger provides a distinctive sweet and spicy flavor combination that we love it in this
Chai Smoothie.
With a stronger than expected content of ginger, this honey can help soothe an upset stomach, support the immune and circulatory systems, and help with weight loss by revving up the metabolism.
For a great-tasting energy boost our Royal Jelly Complex provides a sweet shot of raw honey with Royal Jelly, Bee Pollen, Propolis, and American Ginseng. Loaded with B vitamins and amino acids, Royal Jelly is great for energy uplift and improving mental focus. It's perfect for a pre or post-workout drink as it helps reduce muscle fatigue. Bee Pollen contains over 250 biological substances, including protein, carbs, fats, vitamins, minerals, enzymes and antioxidants. Propolis can also support immune health and the body's healing process.
The American Ginseng in Royal Jelly Complex can help increase and sustain energy, improve cognitive function, and helps relieve the effects of stress. It also supports immune health, and promotes the body's ability to maintain healthy cholesterol levels.
We love adding Royal Jelly Complex to this Peanut Butter and Jelly Post-Workout Smoothie .
For a natural protein boost in our smoothies and bowls we try to steer clear of highly processed protein powders that often contain chemicals, fillers, and/or are sprayed with pesticides. These powders are often made in China to boot.
We prefer wholesome natural protein sources in our smoothies like spirulina and chlorella in Vital Nutrition Plus, organic dairy and plant based yogurts, and nut and seed butters.
Pumpkin Seed Butter is high in zinc, iron, copper, magnesium, manganese, potassium, Vitamins K and B, amino acids, and more. Brazil Nut Butter is a rich source in selenium, magnesium, and thiamin.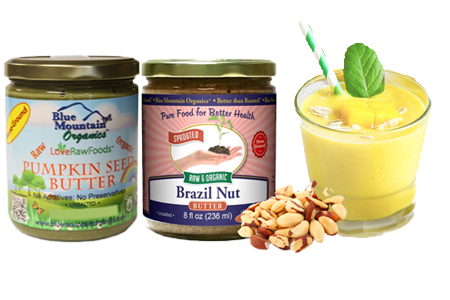 While we love almond and peanut butter, our Pumpkin Seed Butter and Brazil Nut Butter offer a rich amount of vitamins and minerals not found in more traditionally used butters and they're a great addition to smoothies like this Nutty Pineapple Smoothie.
When it comes to produce, you should know about the Environmental Working Group's Shopper's Guides on pesticides in produce. These guides are helpful to know which foods it is best to purchase organic if possible and which types of conventional produce tend to be lower in pesticides.
The Dirty Dozen list for 2021 from EWG ranked the following foods as highest in containing pesticides:
EWG's Dirty Dozen for 2021:
Strawberries
Spinach
Kale, collard and mustard greens
Nectarines
Apples
Grapes
Cherries
Peaches
Pears
Bell and hot peppers
Celery
Tomatoes
EWG's Clean 15 ranked these foods lowest in pesticides:
Avocados
Sweet Corn
Pineapple
Onions
Papayas
Sweet peas (frozen)
Eggplant
Asparagus
Broccoli
Cabbage
Kiwi
Cauliflower
Mushrooms
Honeydew
Melon
Cantaloupes
Farmers markets, community or online co-ops are ways to purchase organic produce at a lower cost.
Still the best produce is whatever kind you can afford! We all need fresh fruits and vegetables in our diets.
We'll hope you'll try some of our favorite summer smoothie recipes below and let us know what you think!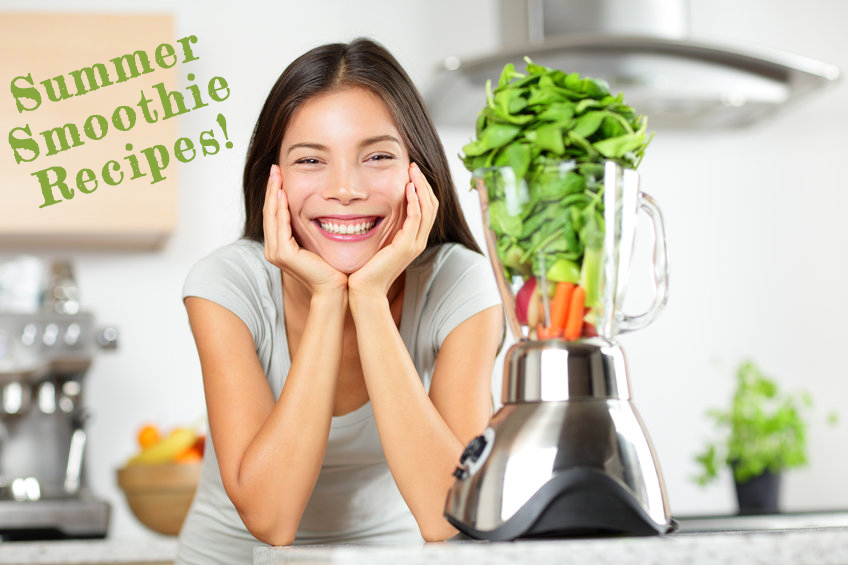 Tropical Green Smoothie
Handful of fresh Spinach or Kale
1 frozen banana
Frozen pineapple – ½ cup
Frozen Mango – ½ cup
Orange juice, milk to reach desired consistency
Optional Nutrition Boosters:
1 Tablespoon Vital Nutrition Plus
Royal Jelly Complex with Raw Honey
1 tsp. Acerola Cherry Powder
Shredded or flakes of coconut
Chai Smoothie
1 cup pure water
1-2 Tablespoons Nut Butter
1 Apple
Cinnamon
Vanilla and/or ground cloves
Optional Nutrition Booster: Stakich Raw Honey with Ginger
Peanut Butter and Jelly Post-Workout Smoothie
1 Cup mixed frozen berries and cherries
2 Tablespoons Peanut Butter
½ cup to 1 cup Yogurt
Plant-based or organic dairy milk
Optional Nutrition Boosters:
Handful of Greens
Royal Jelly Complex with Raw Honey
1 tsp. Acerola Cherry Powder
1 tsp. Chia Seeds
Nutty Pineapple Smoothie
One handful of fresh greens (kale or spinach)
¾ cup frozen pineapple
1 frozen banana
2 Tablespoons nut butter or butters (peanut, almond or try Pumpkin or Brazil Nut or a combination!)
Plant-based or organic dairy milk to reach desired consistency.
Strawberry Mint Smoothie
1 cup fresh orange juice OR 1 cup water and a peeled and seeded orange
1 cup fresh or frozen strawberries
½ cup frozen cherries
1 teaspoon Organic Freeze-Dried Acerola Cherry Powder
A bunch of fresh mint leaves
1 squeeze of lemon juice
Berry Delicious Smoothie Bowl
1 heaping cup of frozen mixed berries
1 frozen banana
½ cup yogurt, plant-based or organic dairy
¼ cup nut butter (Peanut, Almond, or Brazil Nut, your choice!)
¼ cup plant-based milk or water to blend
Optional Nutrition Boosters:
1 tsp Acerola Cherry Powder
1 Tablespoon Stakich Royal Jelly Complex with Raw Honey
Blend until smooth
Top with sliced fresh Fruit, cacao nibs, coconut flakes, chia Seeds, nut butter, and/or more raw honey!