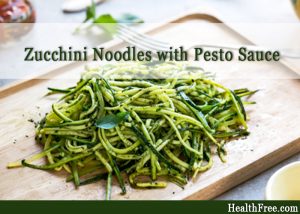 This is a great spaghetti substitute. You can use many kinds of vegetables for this. Some of our favorites are raw: zucchini, squashes, or carrots. Also try a mix of several kinds of veggie for even more flavor!
Shred or use a vegetable slicer to create thin, noodle-like strands of zucchini and whichever other vegetables you like.
A great device for raw spaghetti is the Spirooli* – it makes long, round strands of vegetable which are exactly like pasta, and is very fast! (*If you don't have a Spirooli, use a grater and make longer strokes, or use a potato peeler, or slice the vegetables by hand.)
Top your raw spaghetti with pesto sauce (recipe below) or use crushed or chopped tomatoes, basil, garlic, olive oil and Celtic sea salt.
Pesto Sauce
3 large cloves garlic
2 cups fresh basil leaves, packed
1/2 cups raw walnuts
½ cup pine nuts or 3 tbsp olive oil or ½ avocado
2 tbsp lemon juice
Celtic Sea salt to taste
Optional: 1 tbsp Vital Nutrition Plus
In a food processor or blender, grind nuts into a powder, then add garlic and basil leaves and blend well.  Last add nutritional yeast or Vital Nutrition Plus , Salt and Lemon juice to taste. Blend. Keeps in the refrigerator up for 5 days.