Why we need them back in our Diet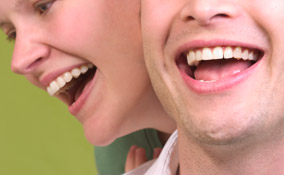 Bitter flavors tend to deliver the strongest response by the body. Many of us even react  with a shudder when something bitter hits our tongue. Our tongue is loaded with taste receptors designed to analyze the nutrients in food, including those called T2Rs which detect the bitter taste. When these receptors in your mouth are stimulated, a cascade of nerve signals reaches areas in the brain which prepare a plan of action for how the body should respond.
Information travels to our salivary glands, stomach, pancreas, liver and gallbladder, encouraging the production and release of digestive juices and enzymes. This obviously has beneficial effects, helping your body fully go into digestion mode and make more of its own digestive enzymes thus increasing your ability to get more nutrients from the food you eat. This means not only more saliva breaking down your food in the mouth, but also better breakdown of proteins in the stomach from the proper amount of stomach acid, restored regulation of muscles closing off the acid in your stomach, good breakdown of all foods by your pancreatic enzymes, and better-lubricated bowel movements from proper bile flow. Eventually, the tissues in your gut may be restored, so no more leaky gut!
Down along the gut, we find more T2Rs. Here, when stimulated by bitter compounds, cells studded with T2Rs directly stimulate tissues to secrete hormones into our bloodstream that contribute to feelings of fullness and satiety*. In fact, feeling satisfied though eating less is a huge benefit from including bitters in your lifestyle. This also tends to curb the cravings for carbs.
In nature most sweet things have had a bitter component balancing the metabolic reaction to sugars. Think wild apples and oranges, concord grapes, carrots that aren't orange-colored, unrefined stevia and licorice. The problem is that in the last 100 years or so, agricultural companies have hybridized crops to breed the bitterness out of our foods to make them sell better. Also, food processing companies routinely reduce any bitterness, and add excess sugars and salt, substituting these more acceptable flavors.
Adding bitters back into our life can aid our digestion and elimination, lessen heartburn and nausea, restore the leaky gut, and help break the hold sugars and carbs have on our lives.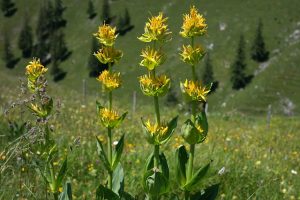 How best to add Bitters to your diet
One way would be to add bitter greens into your salads, organic chicory, dandelion, arugula, radicchio.  Bitter tasting roots, such as dandelion or burdock, can also be included in stir-fries or soups.  But in today's busy life the most convenient way is to use a bitters tincture –  several sprays into your mouth, or a dropperful right under your tongue or in in a little water.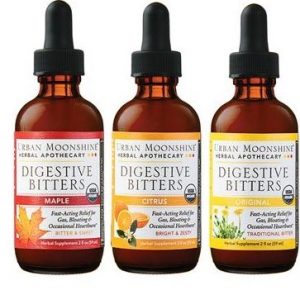 At Southern Botanicals we stock the finest specialty  organic bitters. The product line has several flavors: Original, Maple, Citrus, and Healthy Liver.  All are certified organic with ingredients sourced domestically, from small farms whenever possible. Some of the extract ingredients include the following:
Dandelion Root and Leaf (Taraxacum officinale), Artichoke leaf, Angelica Root (Angelica archangelica), Burdock Root (Arctium lappa), Yellow Dock Root (Rumex crispus), Gentian Root (Gentiana lutea), Orange Peel (Citrus aurantium), Fennel Seed (Foeniculum vulgare), Ginger Root (Zingiber officinale), Organic Essential Oils
Best of all – they are on sale!   Check our website  to see all ingredients and choose a formula that suits you.
Note: Taste receptors are the target of current research seeking new discoveries about how they work and benefit the human body. For example, bitter receptors, T2Rs, have been found in other tissues in the body, including the lungs and upper airways, where  recent studies have shown they seem to be involved in immune response and also create a surprising relaxation of the airway muscles.*  Some studies to start with follow:
Gut. 2014 Jan;63(1):179-90. doi: 10.1136/gutjnl-2013-305112. Epub 2013 Oct 16.  Taste receptors of the gut: emerging roles in health and disease. Depoortere I.
Int J Biochem Cell Biol. 2016 Aug;77(Pt B):197-204. doi: 10.1016/j.biocel.2016.03.011. Epub 2016 Mar 23.Bitter taste receptors: Extraoral roles in pathophysiology. Shaik FA1, Singh N1, Arakawa M2, Duan K1, Bhullar RP2, Chelikani P3.
Trends Endocrinol Metab. 2013 Feb;24(2):92-100. doi: 10.1016/j.tem.2012.11.006. Epub 2012  Nutrient sensing in the gut: new roads to therapeutics? Janssen S1, Depoortere I. Dec 21.
Nutrient sensing and signalling by the gut.  Rasoamanana R1, Darcel N, Fromentin G, Tomé D.  Proc Nutr Soc. 2012 Nov;71(4):446-55. doi: 10.1017/S0029665112000110. Epub 2012 Mar 27.